5 Things You Need to Know Before Running Instagram Stories Ads
You may be familiar with Instagram ads and other ad formats, but have you ever considered using Instagram Stories ads?
We all know Instagram Stories are a great way to get your brand out in front of potential clients. But, when it comes to getting your ad in front of your target audience, you have to be strategic about how you use them. In this article, I'll show you everything you need to know about using Instagram Story ads and why they're one of the best ways to drive engagement on Instagram.
In this post, we'll break down what you need to know about the features and functionality of Instagram Stories ads before starting to work with these ads.
What are Instagram Stories Ads?
Instagram Stories ads are the perfect example of a great way to get the attention of the right audience and drive people to your website. These stories allow you to build an authentic and compelling story around your business. They're also an easy way to build a following on Instagram. With the stories feature, people can add a voice to their stories and post to the world. This gives brands another platform to reach consumers with their message.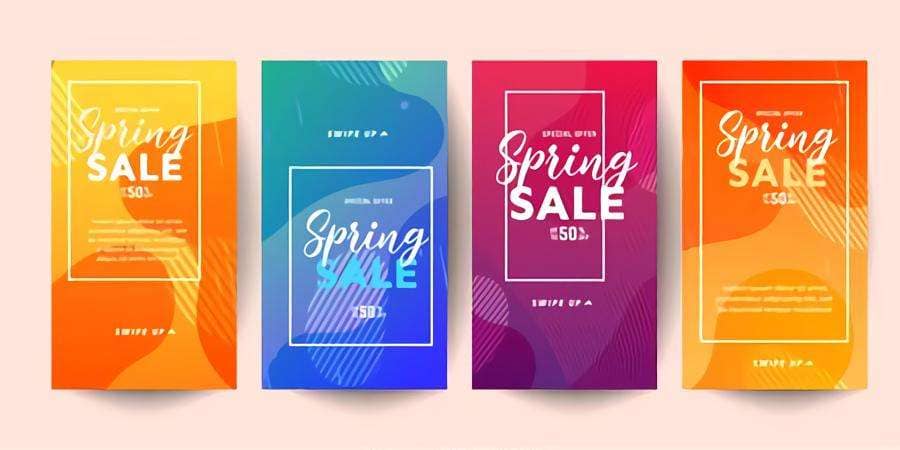 As a small business owner, you may be wondering how to advertise your business through Instagram Stories. First, you need to think about what kind of image you want to use. For example, you may want to use pictures of your products and service. Or, you may want to use text or use the photo editor to put a logo.
The second thing to consider is what message you want to convey to your followers. Do you want to sell products? Or, do you want to promote your brand? What would you like to say to your followers? You need to be able to communicate clearly with your followers.
How to Make Sure Your Instagram Stories Ads are Seen
One of the fastest ways to boost engagement and drive clicks is through Instagram story ads. These stories allow users to take photos and record videos, which they can later share with their followers.
They can be edited to add hashtags and can contain text or even GIFs. However, only 50% of the total stories that are created are ever shared, so marketers need to be sure they're posting the right stories and using the right ad creative to get the best results.
There are some basic rules that you need to follow when creating an Instagram story ad. You need to make sure you have the right size and the right color scheme for your brand. It is also very important to know what your audience likes and dislikes. You must have an eye for what works and what doesn't, and use those insights to make your story ads better. For example, if you are using a blue and white theme for your content, you need to keep that in mind when creating your ads. There are a lot of brands that use this combination in their stories and ads.
Make sure you are not posting too often or too frequently, as this will make your followers not like you anymore. You need to make sure that you post the content that you want to share, or else your followers will delete it. Make sure you include enough details and interesting images and videos.
It is okay to be creative with your stories as long as you don't cross any lines. If you are not sure about how to write a story or how to create a meme, you can use Instagram Story Generator to help you out.
How to Find the Right Campaign for Your Business with Instagram Stories Ads
On the other hand, if your goal is to build your brand and build awareness for a new product, the right ad campaign for Instagram Stories Ads can drive tons of new customers. In this case, you can focus on building brand awareness and driving engagement by running a campaign that allows your followers to engage with your brand through Stories.
You can create a variety of different ads for Instagram Stories Ads, depending on what type of content you want to share. You can also add creative elements to your posts in order to catch people's attention. You can use emojis, text, stickers, text overlays, photos, videos, etc. to make your post more attractive to your followers.
It's really important to keep an eye on your competitors because if you want to beat them, you need to make your ad stand out from theirs. You can do this by creating unique and engaging content. It will increase your chances of getting new customers.
How to Set Up Instagram Stories Ads
These ads are just as easy to use as Facebook ads. To set up an Instagram Story ad, you need to have an audience of people who follow you on Instagram. Once you have your audience selected, select the campaign you want to run ads on, then set the daily budget.
Select the type of ad you want to run (standard, carousel, or grid) and whether you want the ad to show on Instagram or Facebook. Once you're satisfied with the options, you can start running ads!
You can set up a lot of different types of ads. You can set up an ad that will show up on both Instagram and Facebook. This means that people who are already following you on both sites will see the ad. You can also run an ad on Instagram only. This means that people who are following you only on Instagram will see the ad. You can also run a grid ad. This means that your ad will run on different days on Instagram and Facebook. Another type of ad is the carousel ad.
This means that people who are already following you on both Instagram and Facebook will see a photo of you. But you will also see other photos of you as well, so people who are following you on one site will also see your ads on the other site.
When you are setting up your campaign, make sure that you have a good budget. You should spend enough money to see some results. You can run ads for 30 seconds or 60 seconds. In order to have a longer amount of time for your ad to be visible, you can run more than one ad per day. So, you can run four ads per day for four hours in total.
How to Optimize Your Instagram Stories Ads
You can optimize your Instagram Stories ads in three ways, starting with the headline. The headline tells people what you're offering and why they should care. The next way to optimize your ads is the image. An image of an item is much more memorable than text alone. You should also provide a call to action (CTA) somewhere on the image. This could be on the image itself or inside the post.
First, your ads should have a headline. This is the first thing you notice when you open the ad. The headline should tell people what you're offering and why they should care. For example, if you're selling shoes, your headline should be "Shoes". If you're selling a product or service, it should be something like "Home Remodeling", "Traveling the world", "Learning guitar", "Learning English", or "Guitar Lessons".
If you're selling a product or service, the ad image should be large enough for people to see. You can also use different colors or fonts to attract people's attention. The next step is the image. It should be eye-catching and attract people to click on it.
A picture is worth a thousand words. Make sure to include an item, product, or service that your audience cares about in the image. Also, include a CTA somewhere on the image. This could be on the image itself or inside the post (as shown in the example below).
If you want to drive traffic to your Instagram account, you should post more often. If you are posting a lot of photos, people may think that you don't have anything important to say. In addition, they might also think that you are not very creative. Therefore, you should make your Instagram posts interesting. Your followers may also become tired of seeing the same images on your feed.
In conclusion, If you're trying to sell something through a post, you might think that the most important element is the title of the post. That's only half of the equation. The title of the post is usually a summary of the article. However, the post itself is often the least read part of an article.

Readers can skim through the article looking for the parts that interest them the most. That means that the headline is the most important part of the article, not the title. A great headline should catch the reader's attention so that they keep reading the rest of the article. A bad headline will have people click away, quickly losing the reader to another article or site.